Overview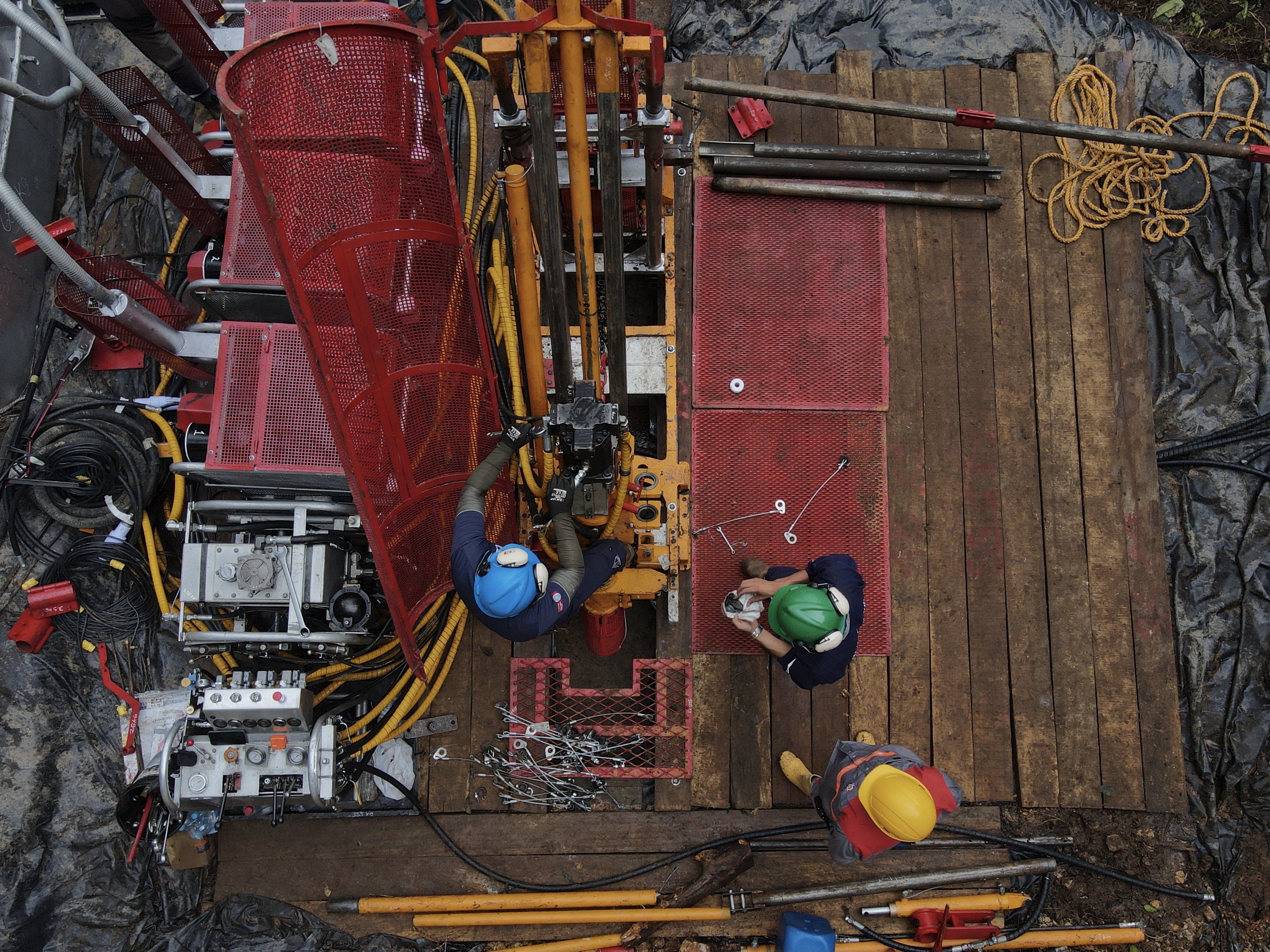 The Mocoa deposit is located in the department of Putumayo 10 kilometres from the town of Mocoa. It was discovered in 1973 when the United Nations (UN) and the Colombian government conducted a regional stream geochemical survey. Between 1978 and 1983, an exploration program was carried out that consisted of geological mapping, surface sampling, ground geophysics (IP, magnetics), 31 diamond drill holes totalling 18,321metres and metallurgical test work cumulating in a positive pre-feasibility study (not NI 43-101 compliant). B2Gold subsequently executed diamond drill programs in 2008 and 2012 consisting of 12 holes totalling 6,890.9 metres.
A pit constrained inferred resource at Mocoa contains 636 million tonnes of 0.45% copper equivalent (0.33% Cu and 0.036% Mo)1 generated using $3/lb Cu and $10/lb Mo, containing 4.6 billion pounds of copper and 511 million pounds of molybdenum. The Mocoa deposit appears to be open in both directions along strike and at depth. Current work on the property has identified additional porphyry targets including the possible expansion of known mineralization which will receive additional follow-up drilling in 2022.
The phase 1 exploration program planned for Mocoa in 2022 includes 5 diamond drill holes for a total of 5,000 metres. Drilling is contracted to Kluane Drilling which using a KD-1000, a modular and highly portable drill rig that can reach depths over 1,200 metres. Libero Copper started its first diamond drill hole, MD-043, in February 2022, and was completed to a depth of 1,235.5 metres, marking the commencement of an ambitious geological program at Mocoa.
Mocoa is already the largest copper resource in Colombia and one of the world's largest undeveloped molybdenum deposits.
Note:
1 Technical Report on the Mocoa Copper-Molybdenum Project, Colombia, dated January 17th 2022, prepared by Michel Rowland Brepsant, FAusIMM, Robert Sim, P.Geo, and Bruce Davis, FAusIMM.
Libero Copper defines copper equivalent calculation for reporting purposes only. Copper-equivalence calculated as: CuEq (%) = Cu (%) + 3.33 × Mo (%), utilizing metal prices of Cu - US$3.00/lb, Mo - US$10.00/lb. Metal recoveries utilized for the resource model are 90% for Cu and 75% for Mo.
Cautionary Note: A Regional Forest Reserve intersects, and is located on, the western part of the deposit. A resource-limiting pit shell is restricted by the Regional Forest Reserve to 325M tonnes at 0.46% CuEq, 0.34% Cu and 0.036% Mo (at a 0.25% CuEq cut-off grade). Libero must follow the procedures set out in Resolution No. 110 dated January 28 2022, from the Ministry of Environment and Sustainable Development of Colombia, as may be amended, suspended or replaced from time to time, in order to proceed with any mineral exploration in the Regional Forest Reserve. While Libero believes that it can likely satisfy the procedures set out in Resolution No. 110, there is no guarantee that it will do so, and the procedures may be subject to change.
Quality Assurance / Quality Control on Sample Collection, Security and Assaying
Libero Copper operates according to a rigorous Quality Assurance and Quality Control (QA/QC) protocol consistent with industry best practices. Primary sample collection involves secure transport from Libero Copper's core logging facilities in Mocoa, Colombia to the ActLabs certified sample preparation facility in Medellin, Colombia. Samples are processed in the Medellin facilities where they are analysed for copper and molybdenum by 4-Acid digest AA analysis. The sample pulps are air freighted from Medellin to the ActLabs certified laboratory in Guadalajara, Mexico, where they are analysed using 4-Acid digest ICP multi-element analysis.
In order to monitor the ongoing quality of assay data and the database, Libero Copper has implemented QA/QC protocols which include standard sampling methodologies, the insertion of certified standard materials, blanks and field duplicates and ongoing monitoring of data entry, QA/QC reporting and data validation. No material QA/QC issues have been identified with respect to sample collection, security and assaying.
Quality Assurance / Quality Control and Sample Data Validation (historic data):
A National Instrument NI 43-101 Technical Report was recently prepared for the Mocoa Project with an effective date of 1 November 2021. Refer to Sim R., Rowland M., Davis B., (2021). NI 43-1-1 Technical Report "Mocoa Copper-Molybdenum Project, Colombia". In this report, the authors state the following:
"A review of the sample collection and analysis practices used during the various drilling campaigns indicates that this work was conducted using generally accepted industry procedures."
"Portions of the data have been validated using several methods, including visual observations and comparisons with the assay results, and direct comparisons with assay certificates. Only the sampling programs conducted by B2Gold (in 2008 and 2012) were monitored using a QA/QC program that is typically accepted in the industry. Similarities between data of all drilling campaigns (location, style, and tenor) suggest that there is no reason to question the results from the earlier drill programs. It is the QPs' opinion that the database is sufficiently accurate and precise to generate a mineral resource estimate."
Strathcona Mineral Services Limited prepared an internal report for B2Gold reviewing the historic work on the Mocoa project (von Guttenberg, R., (2008), Mocoa Copper-Molybdenum Project Putumayo Department Colombia, prepared for B2Gold Corporation, 18 June 2008, 475p.) This report outlines the sampling methodology, sample preparation, analysis and security, assay lab details, core storage location, etc., for the historic drill core samples, etc.
The company is currently resampling all historic surface outcrop locations and completing a soil sampling program over the property to further validate the previous sample results.
ENVIRONMENTAL, SOCIAL AND GOVERNANCE (ESG) PROGRAM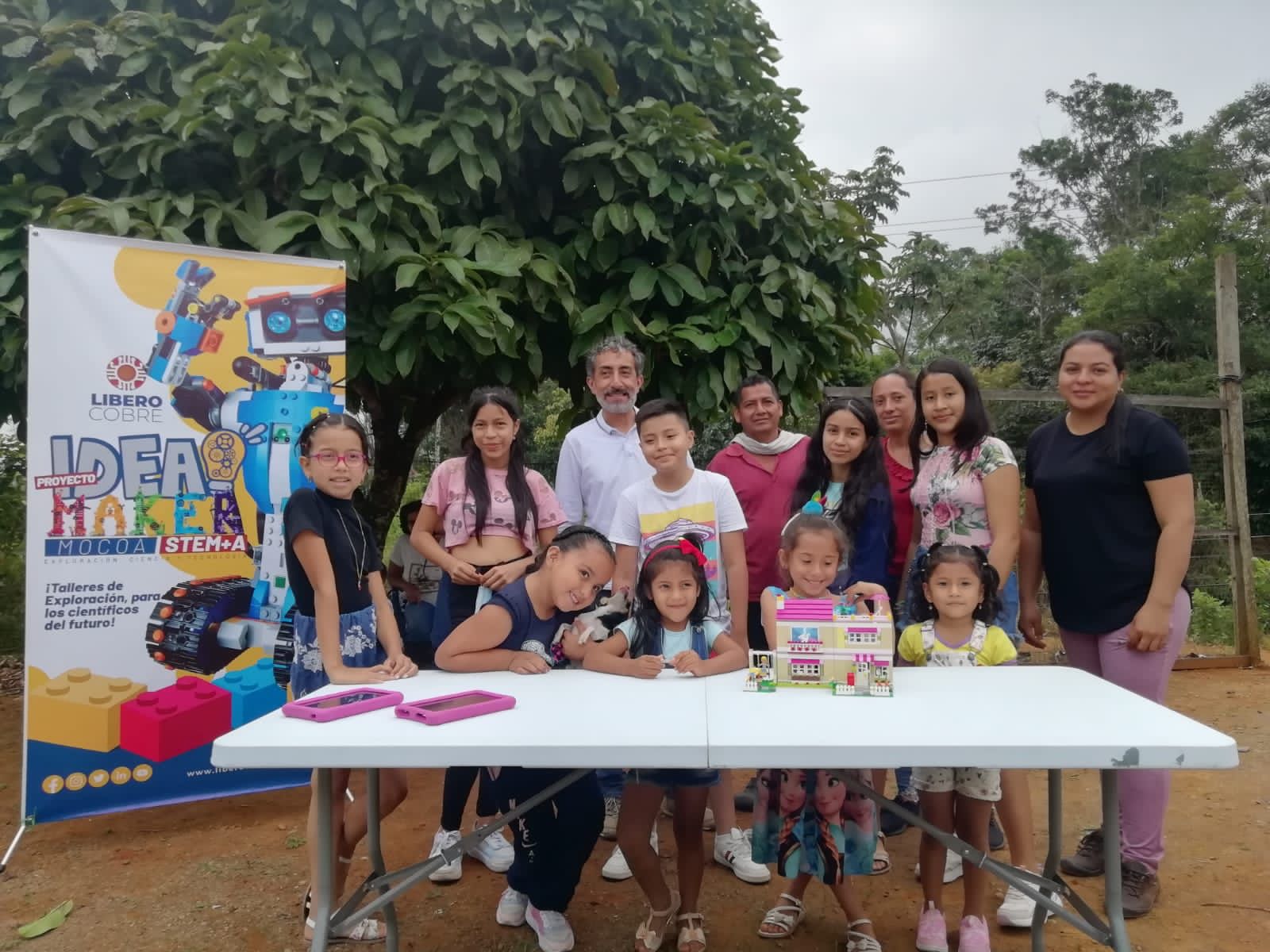 Under the operating philosophy of being "A Good Neighbor", Libero Copper has been engaging with the community. In the last year, we have generated more than 100 jobs of which 87% of employees are originally from Putumayo. In addition, more than 330 local people have benefited from our purchase of goods and services, contributing significantly to the economic reactivation of the region of Putumayo.
As a proud signatory member of the UN Global Compact, Libero Copper understands that business and investment are essential to achieving transformational change. We're committed to more children in Mocoa being empowered and transformed into citizens of change through education. Our programs IDEAMAKER and STEM+A invite them to explore and investigate areas such as engineering, mathematics, science and technology.
In the last three months, more than 250 children from rural and urban areas have participated in our programs.
In addition to dialogue and workshops, the program has been supported by an ongoing weekly radio broadcast, a significant presence on social media, chat platforms and an open-door policy at Libero's office in Mocoa.